Features
Escape to nature at Taman Pulai Hijauan, a new township with 1,139 units of mixed property in 10 phases of development. Encompassing an area of 140 acres, the township offers 1,010 units of residential houses, 129 units of shop houses, 2 commercial lands and a piece of petrol land, safe and lifestyle living environment with green theme concept is what You are looking for. Taman Pulai Hijauanis a place that you must not miss.
The project is set to be the most desired address with lavish lifestyle living and matured landscape that creates a welcome retreat every time you come home.
Exceptional Location
Taman Pulai Hijauan is located along Jalan Pontian that enjoys the advantages of Skudai-Pontian corridor, JB's hottest growth areas. This thriving corridor is home to one of the state's biggest residential catchment areas with a population of over 300,000. Furthermore, it's merely a kilometre away from the Huayang's flagship project in JB, the Taman Pulai Indah.
The township offers all around accessibility, 12km to Pulai Springs Golf Resort, 9km to Universiti Teknologi Malaysia, 10km to Aeon Taman Universiti, 22km to Aeon Bukit Indah, 28km to Second Link Expressway and added with convenient access to schools in the vicinity such as SMK Kangkar Pulai 2, SK Kangkar Pulai 2 and Woon Hwa Primary School.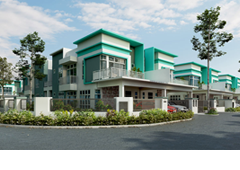 The Emilia
Emilia offers the unique opportunity to own a cluster home in one of the greenest and yet fast growing areas in Johor Bahru.
Enjoy the peace and quiet of the woods that surround your home, or take a walk in the greenery park.
Emilia combine elegance, convenience and luxury in a location where your lifestyle can enjoyed to the full.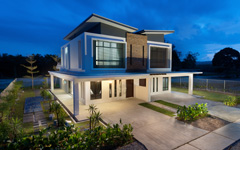 The Alder |
Sold Out
The Alder is a newly launched double storey terrace housing scheme in Taman Pulai Hijauan having a built up area of 1,834 square feet that comes with 4 bedrooms and 3 bathrooms, all protected in a gated and guarded community.
The contemporary facade of The Alder is exquisitely designed to carry a signature of quality and modern living etched in a green and natural environment.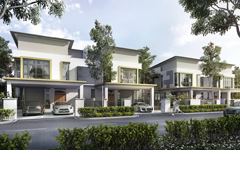 Docynia |
Sold Out
Featuring a fascinating blend of modern designs within natural settings, Docynia comprises double-storey semi-detached homes and bungalow houses.
With lot sizes measuring 40ft x 80ft, the semi-detached homes boasts a spacious built-up size of 2,809 sq ft, whilst the bungalow units measure between 3,115 sq ft to 3,379 sq ft. The homes consist of 5 bedrooms and 4 bathrooms as well as tasteful fixtures and fittings.

Bellis |
Sold Out
Discover an innovative development concept linking houses back to back with no unwelcome back lanes, in a well-planned living environment. The luxurious garden cluster homes offer more space with private side garden and patio, all set in lush greenery. Each home is a well-designed corner unit in a low-density enclave. Ample balconies are linked to living spaces and provide more natural light and ventilation across your home.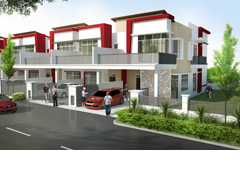 Cycas |
Sold Out
Escapism to the nature, Cycas terrace homes offer abundant of eco living features.
With 242 units within the entire development, it is spacious to accommodate the warmth of family and exclusive enough to pamper its residents with an abundance of personal space – all the while making the most Mother Nature's offering.
A quality lifestyle that comes complete with modern amenities within easy reach:
Universiti Teknologi Malaysia (UTM) -5KM
Johor Bahru – 28KM
Sultan Ismail International Airport – 15KM
Primary and secondary schools – 0.5KM
Chinese primary school SJK (C) Woon Hwa – 2KM
Jusco Taman Universiti – 6km
Shops and commercial centres
Picturesque parks and a beautiful lake
20 minutes to Jusco Bukit Indah
Taman Pulai Hijauan is strategically positioned where residents can have fast access to:
Second-Link Expressway
JB-Parkway Highway
Johor Bahru/Pontian Highway (upgrading in progress)
North-South Highway
Skudai Highway